Can you replace a background in Photoshop in only 5 steps?
With Movavi Photo Editor, you can do that & much, much more . . .
With this all-in-one Movavi Photo Editor, you'll be able to create polished edits & presentations faster than ever before
Imagine you were about to take the greatest photo in your life — perfect light, perfect subject, perfect composition — and then some jerk photobombs you. Yeah, just as you shoot, jumping into the frame. How would you scrub him out from the photo?
Sure, you could subscribe to Photoshop CC. Pay $10 every month to eventually get around to it. That's an option. But when it comes down to it, do you really to use a whole army of layers, masks, and brushes to do such a simple thing?
So what other options do you have? Free applications are all over the web, but most of them take their inspiration from programs like Photoshop. They're powerful, but their power comes at a price. Most are less intuitive, more confusing, and too clumsy for an occasional use.
You want something that's powerful but also a breeze to use. You don't want complicated software. You want to remove that rude jerk from your photograph with as little trouble as possible.
With Movavi Photo Studio, jerks can be deleted in one step, uninteresting backgrounds in five 🙂
Movavi Photo Studio: Three Movavi Photo Editor Apps in One



Movavi Photo Studio packs together three of Movavi's most popular photo editing apps into one bundle. Included are Photo Editor, Photo Batch, and Slideshow Creator. Look below for more information about each one.
Photo Editor
Ever wanted to remove power lines or unwanted shadows? While fixing skin?
With this intelligent and intuitive tool, you'll able to remove objects, replace image backgrounds, and retouch portraits all in a few clicks.
You'll also be able to quickly resize, crop, rotate, flip, and level to adjust the composition and use the program's built-in automatic presets to improve the quality of your photos in a snap.
Remove unwanted objects without stressing about layers
Replace backgrounds with smart removal algorithms
Improve your photos with automatic presets & manual control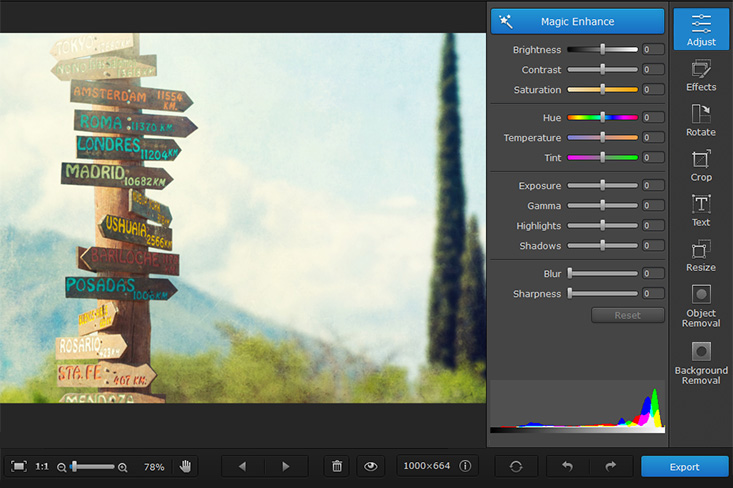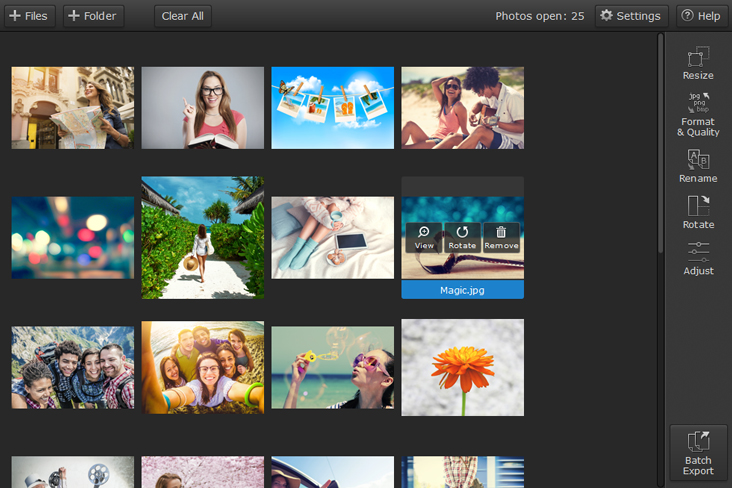 Photo Batch
With this program, you'll be able to resize, rename, or convert a large selection of images in one action.
You'll also be able to add dates and numbering to filenames and be able to compress your photo collection to make space on your hard drive. All at once. No need to repeat any steps.
Batch-resize entire photo albums

Rename image files to better organize your photo collection

Convert images to any popular format
Slideshow Creator
This tool allows you create slideshows of your photographs in three simple steps. With it, you'll be able to make presentations and edit together quick movies with music and fades. Convenient and easy to use, you'll also have the ability to add stylish titles and filters and be able to enhance your photographs in one click.
Import photos and video in any popular format (JPEG, PNG, BMP, GIF, AVI, MOV, MKV, MPG, WMV and more)

Cut your slideshow into parts, delete unneeded segments, rotate frames

Use Magic Enhance to automatically improve image quality

Connect photos and videos with smooth fades

Add your own audio track or select one of the default themes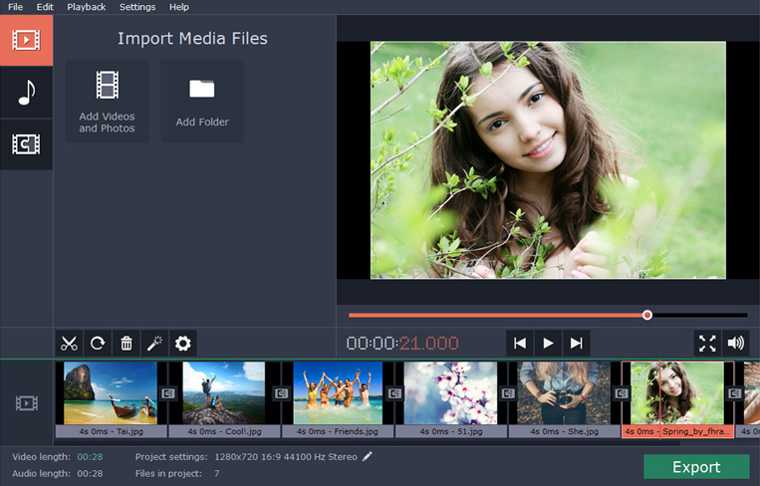 System requirements for Movavi Photo Editor
Microsoft Windows® XP, Windows Vista, Windows 7, Windows 8, or Windows 10 with up-to-date patches/service packs installed
Intel®, AMD®, or compatible processor, 1.5 GHz
NVIDIA® GeForce™ series 8, Intel® HD Graphics 2000, AMD Radeon™
600 or higher graphics card with up-to-date drivers
1024×768 screen resolution, 32-bit color
1 GB RAM for Windows XP, 2GB for Windows Vista, Windows 7, Windows 8, and Windows 10
Minimum 700 MB free hard disk space for installation, 1 GB for ongoing operations
Administrator permissions are required for installation
Lifetime License For Windows PC Only
Personal Plan – Personal license is intended for personal use in non-business environment (e. g. home)
Business Plan – Business licenses are made for commercial use in business environment.
NOTE:  Each license is for 1 PC.
Want to quickly edit out your photograph's mistakes?
With Movavi Photo Studio, editing becomes easy. Improving your photos, quicker. Buy today!
.
$59.95–$99.95 Select options